Cloud Computing: Consultancy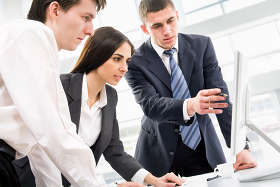 At this time, Cloud proposals come in many shapes and sizes. Orientation is frequently complicated, making the implementation process difficult to understand. Clients frequently want to know what to transfer to the Cloud and what benefits will accrue.
How will Cloud computing affect my business? What should I focus on?
The Cloud introduces major changes in the use of IT resources and can help you to obtain improved results in terms of reaction times, connectivity and market strategy.
The exceptional advantages offered by Cloud computing include enhanced operational efficiency, cost reductions, more effective collaboration and faster time to market.
However, in order to obtain the best possible results, an action plan is needed for the integration of Cloud technologies within the broader IT strategy.
We are able to assist your IT department and business teams to create a Cloud computing strategy and governance plan that can be implemented quickly, while also laying the foundations for achieving excellent performance over the long term and obtaining sustainable competitive advantages.
As your partner, we can help you to understand your needs and guide you on your journey to the Cloud.
English